Magie Visfarank
Visfarank
Type :
Chamanique-astral/Magie blanche
Source :
Plan astral
Bucket capacity :
Variable
Créateur :
Amélia Will Tesla Saillune
Exemple d'utilisation :
Amélia contre Gduza (6ème roman)
Exemple d'utilisateur :
Amélia
Description :
Amelia charge ses poings de magie astrale, ce qui lui permet de pouvoir se battre à mains nues contre des mazoku de rangs peu élevés. Celà accroit également sa défense, permettant ainsi à ses poings de servir de bouclier. Elle peut ainsi, par exemple, dévier des projectiles. Enfin, il arrive à Amelia de se servir de ce sort pour renforcer ses coups de pied.
Amélia a développé ce sort au cours de son voyage avec Lina, sorcière régulièrement confrontée à des mazokus.
"Not unlike Zelgadiss' Astral Vine and broadsword, Amelia's mystery spell had infused her bare hands with concentrated magical power."
-6ème roman de la Main Serie-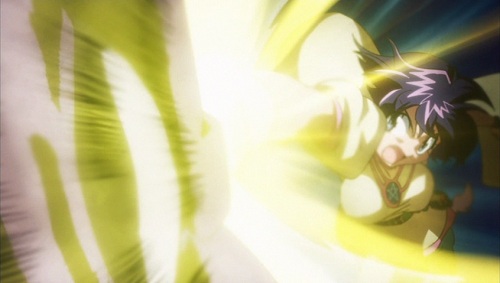 Description par Liclic et Gruic.
revenir en haut de la page